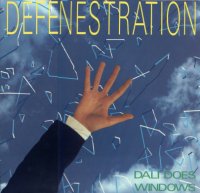 The long awaited 1987 LP release, Dali Does Windows, was universally derided for it's amateurish cover art. Originally it was supposed to have a specially designed cover worked up by lead singer Tyson Meade. In it he used photos of each member playing as a child cut into a picture of a living room. Their label rejected that submission and thus began a back and forth wrangling over just what should be on the cover. The arguments lasted until the 11th hour and finally the record label hastily threw together the scene at left. Nobody liked it and fans were completely perplexed. Todd Walker was to later comment that the photo on the back of the band in performance should've been the obvious choice.

However, the old adage of not to judge a book (or an LP) by it's cover is an apt one, especially in this case. The music is so well produced and has such a "live" feel that its surprising the needle didn't bounce off the vinyl. The drums thunder, the guitar rips and the bass pounds into your chest all while the vocals alternately soar, shriek and howl above the din. The overall effect is truly stunning.

A perfect opening track for both album and show, side one begins with Tripping Drag Queens and Tyson declaring, "We've been waiting for you to come..." From the git-go its obvious this isn't going to be your typical collection of wannabe rockers. Its night of the living drag queens stumbling about on acid and coming to get you.

The next cut, Money Wagon, while seriously addressing the subject of greed and ending with a moral, still has fun by merrily bastardizing the English language being..."much more happier." A catchy rocker, I Must've Been You, let's the listener know that he's going no matter what, though its not clear just exactly where it is he's headed. On its heels is, It Takes A Few Days, a straight shot of rock and roll and a true hit single in the waiting, it explores a wasted world and learning to finish one's relationships before beginning another. Another highlight, Bedlam Revisited 1969, is a soulful ballad of reincarnation and redemption - complete with cello. This segues into the dismal She Has No Soul, which sounds like a trance inducing bad trip through Dante's Inferno.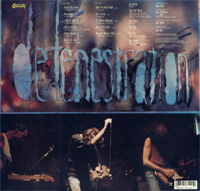 Starting off side two (back when there were sides) is Watch The Hearts Break with an evil dark rhythm and lyrics to match; it is a song of madness and pain that puts Tyson's screeching to good effect. One could only call it, "creepy." Up next is Cars In Trees, one of the first tunes ever written by the group. It regards an actual event and the unreality of witnessing an all-too-common tragic reality. Not letting the LP get too morose (and juxtaposed ironically against the last song), D.Y. Wanna rescues the listener with a nice up-tempo blues shuffle about the joys of hitchhiking and other fun. Next, Back On The Ranch returns us to a simpler life via a Doors influenced arrangement including eerie keyboards and castanets.
The final cut, Misplaced Messiah, closes the show with a real bang. Perhaps the finest rock anthem since the Who's, "Won't Get Fooled Again," it easily would've become the band's signature piece and ubiquitous encore just as it was years ago. Nothing was lost in the studio on this one as the band moves forward at a furious pace pushed ever onward by Chris' warlike drumming and Todd's shredding guitar. Then just when the song is almost finished and it couldn't go any further - it jumps into overdrive. In an almost aural mirror of the tensions boiling between Meade and Walker, the guitar and vocals fight it out in a tit for tat duel that literally makes one's hair stand on end before coming to a jagged and lurching halt.
From start to finish this album is hands down one of the finest recordings ever of a band at full stride. Unlike most groups who put out an album with one or two good songs and a lot of filler, this album is full of great and memorable songs that are as valid today as they were when they were first recorded. Even the few tunes that could be considered ugly little sisters to the rest are as good as most of today's group's best efforts. If only they hadn't self destructed shortly before this release, it is likely that a truly great band of enormous potential would have emerged on the music scene. One can only wonder what impact they would have had, if only...
| | |
| --- | --- |
| DALI DOES WINDOWS - LP | Tyson Meade - guitar/vocals |
| Released 1987 | Todd Walker - guitars |
| Relativity / 8142 | Joe Kollman - bass |
| | Chris Ward - drums |

all text and images © defenestrationfan all rights reserved