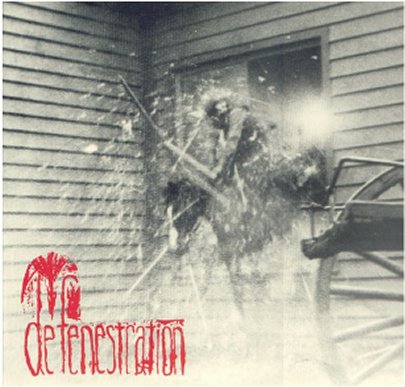 The self-titled EP was recorded in Walker Studios (no relation to Todd) in 1984. This particular incarnation of the band included Whit Hyde on drums and Chris Royse on bass. While the EP demonstrates the band's range of style it is also remarkable in just how spare and lean the sound is. Avoiding the typical "kitchen sink" approach so common in a first attempt, overdubbing is practically non-existent as is any other effect. The only extravagance the band allowed itself was the use of keyboards (an instrument they never used in concert) to add an extra dimension to the sound. One would think that keeping the engineering to a minimum would result in an almost garage feel except for the fact that the music itself is so polished and well performed. It gives the listener a weird feeling as though one were eavesdropping on a private appearance of the group to which no one was invited.
Opening the album is Cut Your Soul In Half, a brooding song about being alienated in a crowd of friends. An odd choice to open an album, it is the darker side of a band that wasn't afraid to explore such subjects and it leaves a chilly resonance from the opening disjointed rhythm to the final abrupt ending. Nothing Lasts continues this feeling with a love-gone-wrong-song and how everything in life can change suddenly and irrevocably despite anything you would do to rectify the situation. After the first two numbers Feminism On Television, offers a fun poke at the women's movement that was prevalent at the time (the ERA was big then). Strangely this tune got a lot of airplay on Billboard's college chart of up and coming groups. Perhaps because the world wasn't so hyper-sensitive in those days or perhaps it was an early backlash to "political correctness," it hit a nerve and was popular with both genders.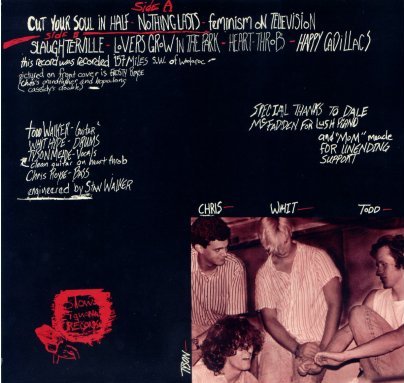 Slaughterville, which starts off side two (back when there were sides) is a kick in the pants and is more indicative of the direction the band would head. A nice rocker in which Tyson displays the incredible range in his voice; from a clear high croon to a vocal cord shredding howl a'la John Lennon in "Twist And Shout." Next, Lovers Grow In The Park, is a hopeful love song that ends in disenchantment as reality intrudes when the honeymoon is over. Perhaps the most accessible song on the disc Heart Throb is an up tempo and catchy tune with a vague echo of "LA Woman" woven in. This features Tyson on rhythm guitar which makes for a nice full sound and would've been a good choice for the single off this collection. Tied now at three rock tunes and three rather dour tunes, Happy Cadillacs comes in as a tie-breaking toss-off just to show that the band does have a sense of humor and that it's not all gloom and doom.
All in all it is an unusual collection of songs especially for a debut. But what makes this EP a standout is the fact that the group never aims for the common denominator of sex, death and drugs. Of course it is full of alienation, loss, love, disenchantment and all the subjects that make for memorable themes in popular music but they never talk down to their audience and they never preach. One of their greatest strengths that they seemed to be able to do in an offhand way was approach these subjects in a serious vein without being prurient but still getting in a good hook. They made it look so easy.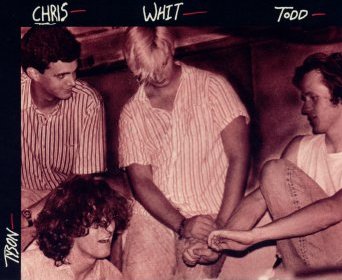 DEFENESTRATION - EP
Released 1984
Slow Iguana Records
Tyson Meade - guitar/vocals
Todd Walker - guitars
Chris Royse - bass
Whit Hyde - drums







all text and images © defenestrationfan all rights reserved